Source: BBC – https://www.bbc.com/news/uk-scotland-45473706
20 septembre 2018 – Image copyrightREUTERS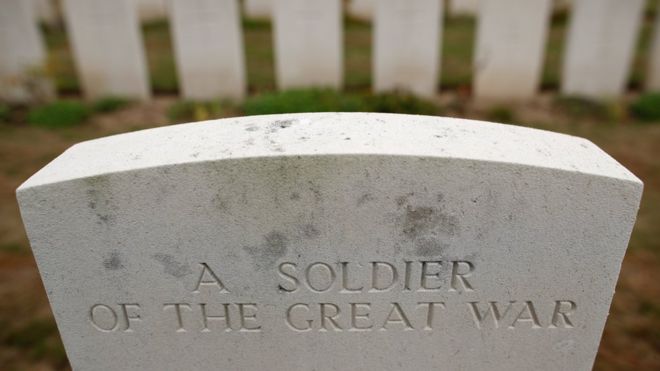 Un village belge appelle à l'aide pour trouver des parents vivants de soldats oubliés de la Première Guerre mondiale.
Des membres du 14ème Fife & Forfar Yeomanry de Black Watch sont morts dans le village d'Orcq, près de Tournai, en Belgique.
Chaque année, le village se souvient des soldats, mais une cérémonie spéciale est prévue cette année pour commémorer le 100e anniversaire.
Le village invite les membres de sa famille à se joindre au service commémoratif le samedi 20 octobre.
Seize militaires sont enterrés dans le cimetière communal d'Orcq, dont huit sont des soldats de Black Watch.
«Voyager loin»
Ils sont tous morts le 23 octobre 1918, quelques semaines avant la fin de la guerre.
L'appel à la famille est mené par les chercheurs bénévoles Chris et Sarah Morris de Dover.
Un groupe de 10 historiens locaux travaillent sans relâche à la recherche de soldats tombés au combat au fil des ans.
Ils ont été oubliés pendant des années, mais nous espérons pouvoir les reconnecter à leurs proches et rendre le service au village fier de
Chris Morris, chercheur bénévole
Chaque fois qu'ils trouvent un héros déchu, ils déposent une couronne en l'honneur du soldat, voyageant loin pour le faire.
Récemment, ils ont rencontré un appel du village d'Orcq, qui célèbre et honore chaque année les hommes qui se trouvent dans leur cimetière communal.
L'équipe de recherche comprend des hommes qui se consacrent aux reconstitutions de la Première Guerre mondiale et prévoient d'assister à la cérémonie du centenaire en tenue de régiment Black Watch.
Chris Morris, chercheur principal, a déclaré: « Je n'ai jamais vu un tel engagement de la part des habitants de ce petit village, ils ont l'honneur de se souvenir des 16 morts dans le cimetière communal.
« J'ai envoyé des courriers électroniques à ces hommes courageux dans le monde entier, beaucoup n'ont pas répondu et d'autres sont trop âgés, trop proches ou vivent trop loin pour y assister. »
L'équipe de chercheurs a l'intention de représenter tous les soldats qu'ils sont incapables de retrouver lors de la cérémonie du 100e anniversaire.
14e bataillon Fife & Forfar Yeomanry de la Black Watch 74e division 229e brigade
Soldat Andrew Webb enrôlé: Carluke, Lanarkshire
Le soldat Thomas Waller enrôlé: Motherwell, Lanarkshire
Soldat Thomas Cockburn enrôlé: Peebles
Soldat Thomas Bartie enrôlé: Cowdenbeath
Caporal Richard Izatt enrôlé: Glasgow
Soldat Edward Sowerby enrôlé: Blackburn, Lancashire
2e lieutenant Frederick Kenneth Cumming Enrôlé: inconnu
Soldat John Barber enrôlé: Whitehall, Middlesex

A Belgian village is appealing for help to find living relatives of forgotten soldiers of World War One.
Members of the 14th Fife & Forfar Yeomanry of the Black Watch died in the village of Orcq, near Tournai, Belgium.
Each year, the village remembers the soldiers but this year a special ceremony is planned to commemorate the 100th anniversary.
The village is inviting family members to join the memorial service on Saturday 20 October.
Sixteen servicemen are buried in the Orcq communal cemetery, eight of which are Black Watch soldiers.
'Travelling far and wide'
They all died on the 23 October 1918, just weeks before the war finished.
The appeal for relatives is being led by volunteer researchers Chris and Sarah Morris from Dover.
A group of 10 local historians work tirelessly researching fallen soldiers that have been overlooked over the years.
They have been forgotten for years but hopefully we can reconnect them with relatives and make the service for the village something to be proud of
Chris Morris, Volunteer researcher
Whenever they locate a fallen hero, they lay a wreath in honour of the soldier, travelling far and wide to do this.
Recently, they came across a plea from the village of Orcq, which has been been annually celebrating and honouring the men who lie in their communal cemetery.
The research team includes men who are dedicated to World War One re-enactments and plan to attend the centenary ceremony in Black Watch Regimental Dress.
Chris Morris, lead researcher, said: « I have never seen such commitment of the people of this small village, they take great honour remembering the fallen 16 in the communal cemetery.
« I have emailed so many people all over the world in connection to these brave men, many have not replied and others are too old, too distantly related or live just too far away to attend. »
The team of researchers intend to represent any soldiers who they are unable to trace family members for at the 100th anniversary ceremony.
14th Battalion Fife & Forfar Yeomanry of the Black Watch 74th Division 229th Brigade
Private Andrew Webb Enlisted: Carluke, Lanarkshire
Private Thomas Waller Enlisted: Motherwell, Lanarkshire
Private Thomas Cockburn Enlisted: Peebles
Private Thomas Bartie Enlisted: Cowdenbeath
Corporal Richard Izatt Enlisted: Glasgow
Private Edward Sowerby Enlisted: Blackburn, Lancashire
2nd Lieutenant Frederick Kenneth Cumming Enlisted: Unknown
Private John Barber Enlisted: Whitehall, Middlesex